Adi Shankaracharya's 2515th birth anniversary celebrated (May 14,2006)
Adi Shankara's universal persona and his achievements must form an inseparable part of central and state government schools in both their primary and secondary curriculum.
The credit for today's unity and integrity of the country goes to Adi Shankara-charya, who toured the country at the time when there were no means of transport expect walking and bound people in cultural and religious bond. It was the outcome of the two-days function held in New Delhi to celebrate 2515th birth anniversary of Adi Shankara. The function was organised by Shrimad Adya Jagadguru Shankaracharya Vedic Shodh Sansthanam, Varanasi and Future Point, Delhi. More than two-dozen organisations of the country including Bharatiya Vidya Bhavan, Delhi Sanskrit Academy, Rashtriya Sanskrit Sansthan, New Delhi, contributed in the function. Over 1,000 Sanskrit scholars, astrologers and devotees of Adi Shankaracharya from different parts of the country participated in the function. The birth anniversary was celebrated as Astrology Day.

Despite not keeping well, the Vice President Shri Bhairon Singh Shekhawat launched the website on Shankaracharya and also released a souvenir from his residence. The website launched by the Vice President is www.adishankara.com

Speaking at the function Swami Gyananand Saraswati, the main guiding force behind the event and a research scholar on Adi Shankara-charya, said the advent of Adi Shankara took place at that particular juncture in the history of Vedic dharma, which can be indeed termed as the dawning of a new era. "The pristine land of Bharat was being bogged down in a morass of non-Vedic influences; the dark demons of vice and sin were eager to devour it from all sides. The land and its people were sunk in laziness, inaction and fatalism. It was at such a period in time that Bharat witnessed the advent of Adi Shankara," he added.

Coming down heavily on the negligence of the great personality of the country by both the government and the countrymen, he said, "Today, when our national flag can be lowered in observance of grief for the demise of persons belonging to a particular faith, why then cannot we, as a nation resolve that the birth anniversary of Adi Shankaracharya, who was a pioneer of universal dharma and philosophical vision, a progenitor of united India, be consecrated as a national festival? Adi Shankara's universal persona and his achievements must form an inseparable part of central and state government schools in both their primary and secondary curriculum," he said. He thanked the Uttar Pradesh and Gujarat government for introducing chapters on Adi Shankara in their school textbooks.

Delhi Sanskrit Academy has published the entire work of Adi Shankara. The Future Point has prepared the website. On second day the astrologers discussed various issues concerning the country.
(FOC)
Did Buddha live in 17th century B.C?
newindpress.com, January 12, 2006
VIJAYAWADA, India -- When was Lord Buddha born? Or when did he attain Nirvana? The answers to such puzzling historical questions may be found in the texts of puranas and scriptures.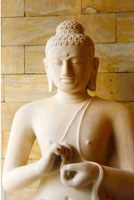 However, author Kota Nityananda Sastry in his latest book 'Age of Lord Buddha' makes a critical appreciation of available data compiled by Western historians who, he thinks, made a mess of Indian history.
The Cambridge and Oxford histories of India accept 483 B.C as the date of Buddha's nirvana. But, William Jones, on the basis of Chinese and Tibetan records infers that Buddha lived in the 11th century B.C.
Historian Fleet, who makes a study of 'Rajatarangini', thinks that Buddha lived in the 17th century B.C. Chinese monk Fa-Hien puts Buddha's Nirvana at 1050 B.C. These contradictory theories may confuse one altogether.
The history that Buddha lived in the 5th century B.C was propounded by E.J Rapson who writes that the exact date of Buddha's Nirvana is not known and hence the popularly accepted year of Buddha's Nirvana is imaginary.
Sastry quotes his father Kota Venkatachelam's treatise 'Age of Buddha, Mililnda & Amtiyoka', which establishes that Buddha lived between 1887 B.C and 1807 B.C.
Venkatachelam's book 'The Plot in Indian Chronology' had gone into the history and the missing links in the chronology of events in Indian history.
Sastry states that Western scholars arbitrarily skipped 12 centuries of Indian history because their 'hypothesis' about Alexander's invasion did not match with centuries-old Indian chronology.
The author asserts that Buddha was the contemporary of Kshemajit, Bimbisara and Ajatasatru, the 31st, 32nd and 33rd kings of Magadh respectively. This has been corroborated by the Puranic as well as Buddhist historical evidence, he adds.
Ultimately, Dr Sastry quoting evidences comes to the conviction that Lord Buddha was born in 1887 B.C and attained Nirvana in 1807 B.C.
Sastry can be contacted at 23-34-18, II floor, Manepallivari Street, S.N Puram, Vijayawada-11.
VEDIC CULTURE AND ITS CONTINUITY: NEW PARADIGM AND DIMENSIONS